This past weekend I went to the Young Survival Coalition (YSC) 2015 conference in Houston. It was my first time ever attending a breast cancer conference. And I had mixed feelings about it.
Over the last three years since my diagnosis, there are moments where I still can't believe this is my life. How am I a breast cancer survivor? How did this happen? I ate right. I exercised. I got enough sleep. I didn't eat a lot of sugar. I did yoga. I did everything I was supposed to do. Although I now know that my breast cancer happened by a combination of bad genes and bad luck, I am still overwhelmed at times by the feeling that I wish it never happened.
As the conference went on, I met several other young women survivors that were both smart and inspiring. They knew their stuff about breast cancer. And they were there to help each other. Each year, only 13,000 young women (40 years old and younger) are diagnosed with breast cancer. So this gathering is important to us young women so we don't feel alone. Also so we can talk about issues that are specific to young women, that older women don't have to deal with.
One of the highlights of the conference was listening to amazing speakers. Two of my favorite were Dr. Susan Love, breast cancer surgeon, advocate and author, and Dr. Don Dizon, gynecological oncologist.
I've been a fan of Dr. Love's since my college days as a women's studies major. Every women's health class I took talked about her work. And she did not disappoint at this conference.
Dr. Love spent a lot of time talking about collateral damage from breast cancer – meaning the physical and emotional damage from treatment. Dr. Love went through treatment for leukemia in 2012, so she knows first hand what she's talking about.
One of the most profound slides from Dr. Love's presentation was the difference in how doctors see us as patients and how we as patients see ourselves.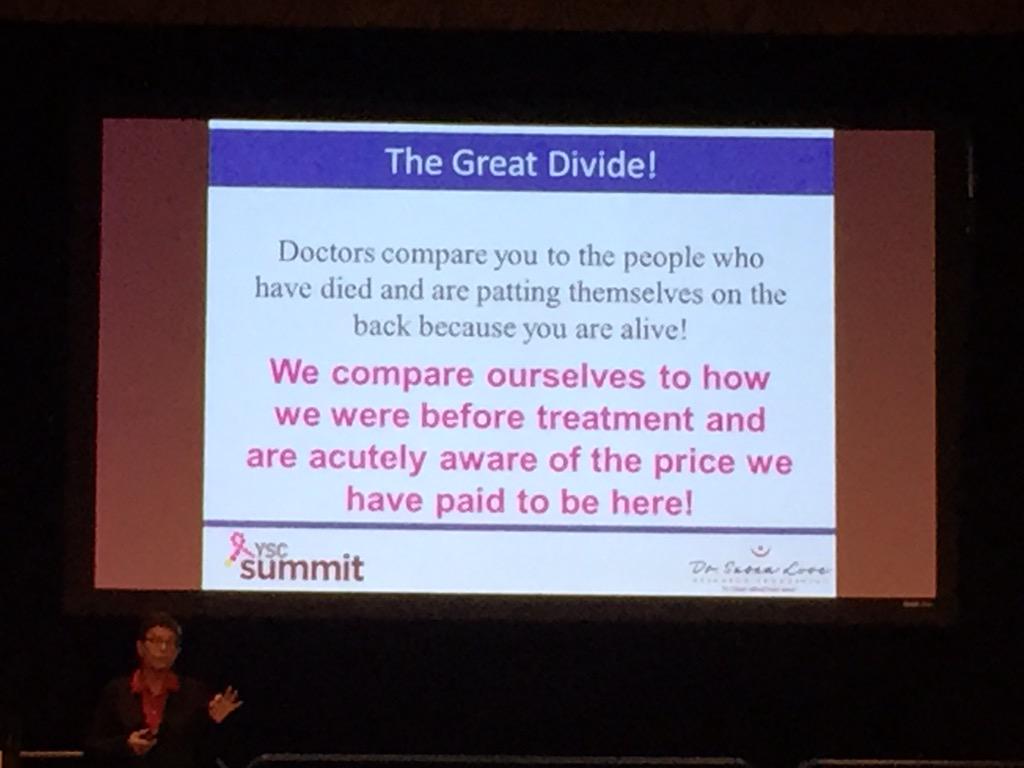 Dr. Love also talked about the bullshit of pinkwashing. There's nothing pretty about breast cancer and in my opinion, the ribbon should be black not pink. And most of the money that is raised from pink products doesn't actually go to breast cancer treatment or research. It's time to move from awareness of pink products to a cure for this horrible disease that kills too many women (and men) each year.
Dr. Love closed her speech by saying, "I want to find the cause of breast cancer and end it." The room erupted in cheers. No one else should have to go through what all of us survivors have gone through in that room.
Dr. Dizon spoke about breast cancer as a disease and the research, both of which are complicated. There are many different types of breast cancer and many different treatments. There's no one size fits all.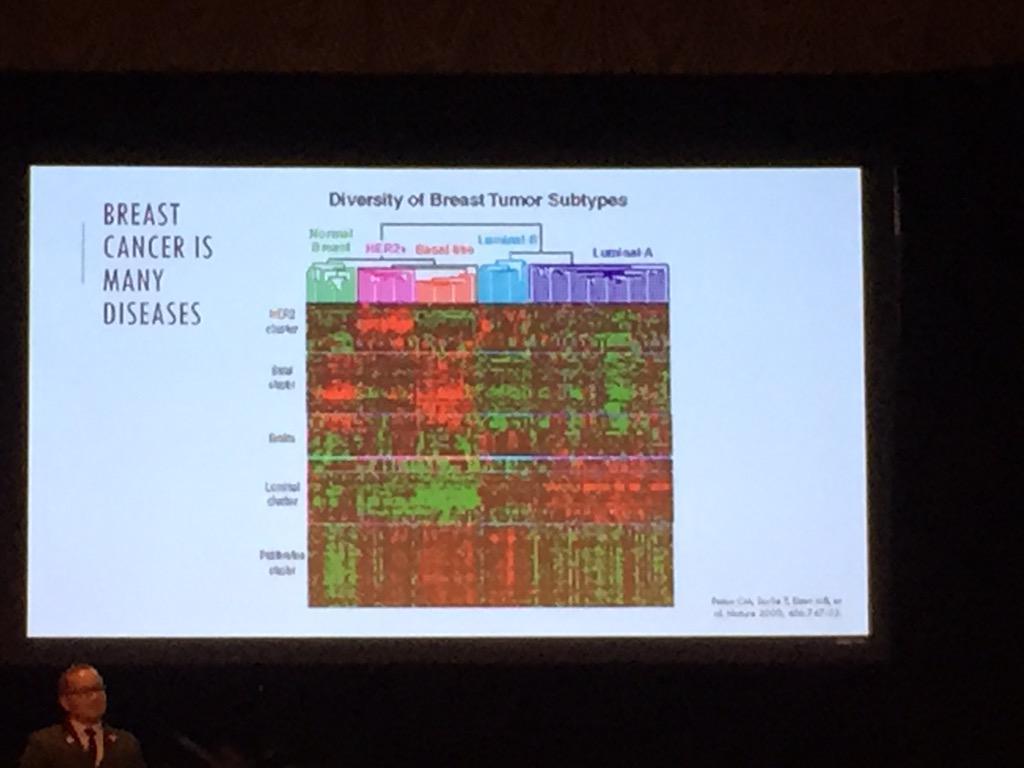 We know that 1 in 8 women are diagnosed with breast cancer. But Dr. Dizon reminded us that statistics are irrelevant when you're the one diagnosed. And breast cancer doesn't kill because of a tumor in the breast, but where it spreads from there.
Dr. Dizon closed his speech by saying, "We must never stop pushing for what we want. We must never stop pushing for what we can do better. Our lives and our loved ones' lives are at stake." So well said.
Another memorable session was on fitness and nutrition. I'm pretty serious about both my fitness and nutrition, so it was great to have all my habits reinforced. Sami Mansfield, an oncology exercise specialist, spoke on these topics.
Sami talked about the importance of good nutrition, and that the Mediterranean diet is the best. No news there, but good reinforcement.
Sami also discussed how estrogen lives in fat. So since my breast cancer is estrogen positive, meaning my tumor fed on estrogen, keeping estrogen lower in my body is key. Therefore keeping my body fat low is important.
One thing did surprise me about Sami's talk. She said that a new study came out which showed that breast cancer survivors no longer need to wear a compression sleeve when exercising or flying to prevent lymphedema. This was SHOCKING. My physical therapist was more than insistent on this. So I'll be following up with him this week. Although I do wear my compression sleeve without fail, it does make me want to exercise less. Wearing that sleeve is just a constant reminder of what I've been through with breast cancer. If I could have one less reminder, that would be great!
The last highlight from the conference was the session on advocacy. Of course it included the great Dr. Love. She reminded us that we need more wild ideas if we're going to get rid of breast cancer. Dr. Love proceeded to tell the story of how the HPV vaccine was discovered at the National Cancer Institute (NCI) while there was a woman as the director. If it weren't for her leadership, cervical cancer wouldn't have almost entirely been eradicated. We need the same thing for breast cancer. It just so happens that Dr. Harold Varmus stepped down from NCI earlier this month. It's time for another woman to head NCI and end breast cancer in my generation's lifetime.
After this session, a petition was created to do just that – nominate a woman to head NCI. You can sign it here.
All in all, it was a great weekend. I'm grateful to YSC for putting on such a wonderful conference. I connected with friends from my support group and made some new friends. Got great reinforcement that my doctors are on top of their ongoing surveillance of me and I'm in good hands. And most importantly, was reminded that I'm not alone.